Do Apartments Replace Toilet Seats
Best Selling Toilet Seats
When you are living in an apartment or rental house, modifications or upgrades to the living space are almost out of the question. The only things the landlord may let you change is the colour scheme and install a few things like faucets or new tile.
After all, you aren't going to live in that apartment for the rest of your life. Besides, it can be really expensive to return things back to how you found them or at least "neutral''. So, the question is, do apartments replace toilet seats?
The bathroom is the heart of the house for most of us, it is a place to relax and refresh. Most importantly, it is where you probably start and end your day, therefore, it should be not only utilitarian but also comfortable. Although you cannot make extensive changes to your apartment or rental, you still have an easy way out that is inexpensive and 100% reversible to upgrade and customize your bathroom.
Making your apartment bathroom beautiful and welcoming usually translates to having to deal with certain constraints. Without a doubt, you will have some restrictions, but this doesn't mean that you restrain your creativity muscles.
Therefore, here are some apartment bathroom ideas to upgrade your toilet space without affecting your rent security deposit.
Declutter your Bathroom Space
Most tenants often tend to forget this small yet impactful step. Decluttering your bathroom will enable you to gauge how much space there is and how many changes you can possibly make. As such, consider tackling under-sink cabinets, shower caddies, countertops and any storage corner that might be in your bathroom
Do up your flooring
Getting rid of the ugly bathroom tiles and replacing them with stylish and appealing ones, unfortunately, is not excusable on an apartment or rental agreement. Regardless, you can use floor skins to upgrade your tiles without compromising their safety and durability. Tileskins come with an adhesive coating that acts as a second skin over the existing tiles installed.
So, depending on your taste, you can pick from designers, plain and anti-skid variations. As such, when you want to move out of the apartment, you can easily peel off the floor skin without affecting the existing tiles.
Upgrade your Hardware
Rental apartments often feature old worn-out bathroom fixtures. However, if you are in a position to switch out the old hardware fixtures to new ones, you can significantly upgrade your bathroom space.
Consider choosing accessories of the same colour or finish to make your bathroom consistent. You can consider switching fixtures such as towel racks, faucets, and showerheads. You don't have to get an expensive choice, but buying affordable high-quality fixtures is ideal so that you don't have to repeat the process soon enough.
Switch Out Old Light
Without a doubt, bathroom lighting is often not the best, especially in rental apartments. However, you can consider upgrading by removing the old light fixtures and installing new ones. Should you be not in a position to install new lights, changing the light bulbs can still do great.
You can focus on both task lighting and ambient lighting since you will need good lighting when you shave or put on makeup. Besides, your bathroom should feel like a private sanctuary.
Change your toilet seat
Replacing your old and worn-out apartment toilet seat for a new sturdier one will pull not only your toilet together but your bathroom as a whole. In fact, it makes everything else look new. Besides, it is hygienic to switch toilet seats, especially in rental apartments.
How to Replace Your Apartment Broken Toilet Seat
Replacing your apartment toilet seat is an easy DIY project. Whether you are replacing it because it is old or just because you want your preferred style, all you need is to get some basic tools and minutes for removal of the old one and installing of the new one. Follow these steps to have a hassle-free replacement of your apartment toilet seat.
Choosing a New Seat
To get the right new toilet seat, measure your current toilet bowl. Although most toilets are standard sized and any seat replacement is a perfect fit, be sure to measure to be cocksure. Measure the distance between the bolt holes in the bowl and ensure the distance between bolts on the replacement seat is similar.
Pick the style of seat you want
Toilet seats come in two basic styles and your nearest hardware store should stock several brands that you can choose from. The elongated and round-shaped seats are the two standard varieties that you can consider choosing your preferred style of seat.
Moreover, buy a whisper close seat that features special pads at the bottom to prevent it from slamming on the bowl when closing.
Select a Seat Color that Matches your Current Toilet Bowl
Toilet seats come in a variety of colours, therefore, choose one that matches the toilet bowl. You can choose white if you want a classic look, or go for a contrasting colour to register a bolder statement. For example, you can choose a wooden or blue toilet seat to contrast with your white toilet bowl.
Get your Tools for the Project
Replacing your toilet seat requires a few simple tools to get the job done. If you don't have any of these tools at home, consider borrowing or heading down to the local hardware store and get them.
Pliers or adjustable wrench
A small hacksaw – optional
A flathead screwdriver
Spray oil like WD-40 – optional
Removing the Old Seat
Use the screwdriver to pop off the bolt caps, if they exist. Look at the edge of the old seat near the tank. Check to see whether there are plastic caps where the seat's hinges attach to the toilet bowl, one on each side. If they exist, gently slide the flathead screwdriver under the edges of these bolt caps and pry them off.
If the caps are not there, you will see the bolts themselves attaching to the hinges of the seat to the toilet bowl. With your adjustable wrench, look underneath the edge of the side of the toilet bowl and loosen the nut. You will find one nut on each side of the bowl. Therefore, attach the adjustable wrench to each nut and turn it counterclockwise to loosen the nuts.
To remove the old toilet seat, slot the screwdriver between the bolts of the hinges on top of the toilet bowl. Alternatively, you can continue turning your wrench until the nuts come out. If the old toilet seat has washers between the bowl and nuts, be sure to remove them as well.
What can I do if the nuts are rusty and stuck? Possibly, you might find that the bolts to your apartment toilet are rusted or stuck on the bolts with grime. If so, they may be difficult to remove. However, you have no reason to worry because there are options to use.
First, spray WD-40 on the threads of the rusted bolts and let it settle in for about 10 minutes before trying to remove the nuts again.
If that doesn't work, get your adjustable wrench on the nut. Hold it in place while you use the screwdriver in the other hand and attempt to remove the bolt out. Should the bolts still be stuck, consider using your small hacksaw to cut them off. For better sawing them off, place the blade right under the toilet bowl at the top of the nut and slowly saw back and forth until you cut the bolt off.
Lift the bolts out of the bowl and remove the toilet seat and the hinges hassle-free. Dispose of the old seat, nuts and bolts.
Install the New Seat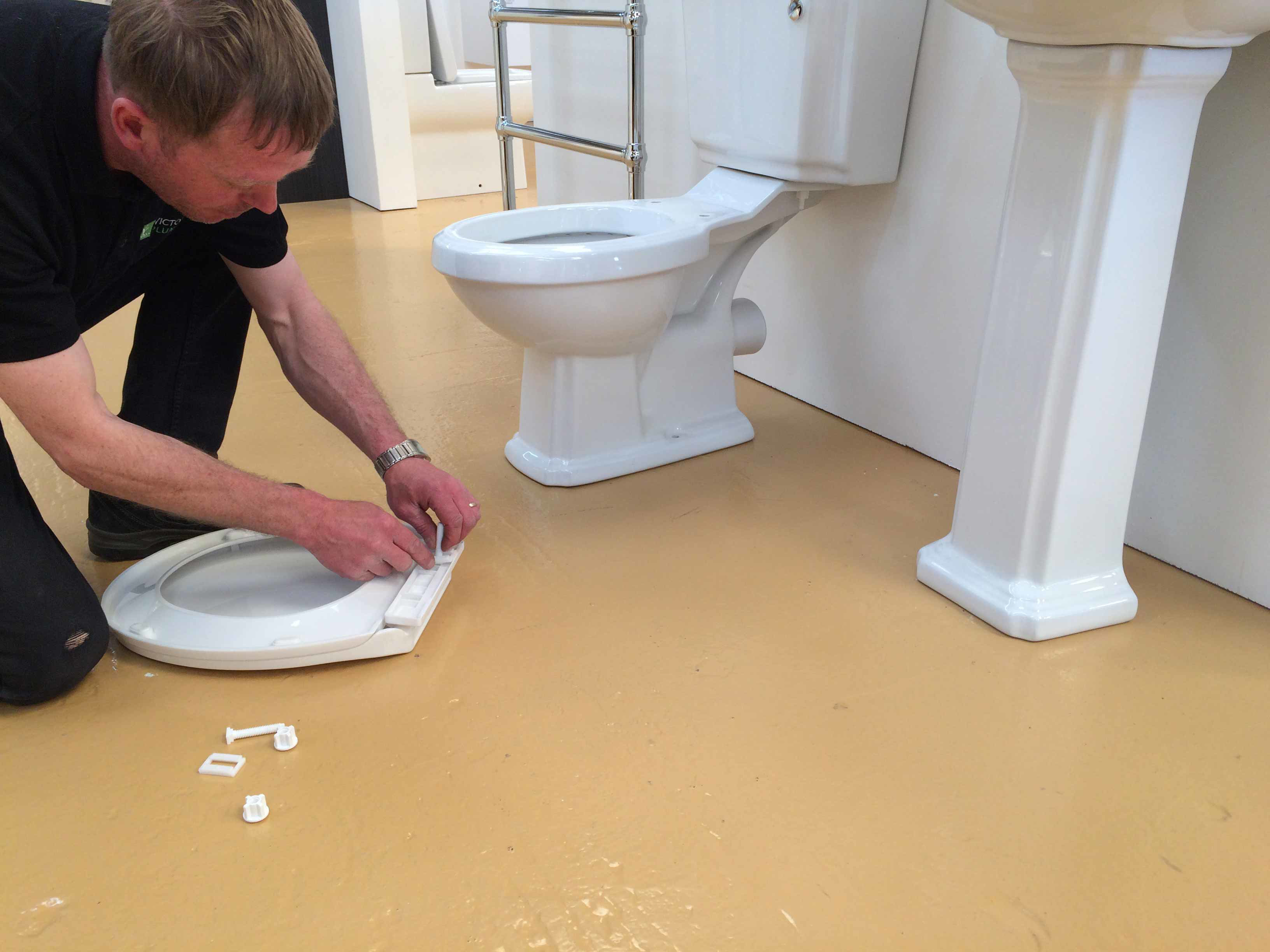 Remove the new seat from the box and set the new place. The hinges on the seat should be pre-attached. Place the hinges exactly where the hinges on the old seat were located. The new toilet seat will come with two bolts and nuts. Besides, it may come with plastic caps that go over the bolts.
Have a bolt in your hand and insert them through the toilet seat holes where they are supposed to go through. Because the new toilet seat will be placed exactly where the old one was, position the holes directly on top of the holes in the top of the toilet bowl. You can see through these holes down to the floor, right? Drop the bolts through the holes in the hinges and toilet bowl, with the head of the bolt on top.
Once they are in position, pick up one nut and look at one side of the bowl and see the end of the bolt sticking down. Thread the nut onto the bolt clockwise until it is tight as you can feel by hand. Use the adjustable wrench to tighten the nut a little tighter. Do the same to the other nut on the other side of the toilet bowl.
If the bolts come washer, make sure to place them on the bolt threads before the nut. Equally, if the hinges have the plastic caps attached, snap them into place by pushing them down on the heads of the bolts once you are done screwing the nuts.
Some models of toilet seats don't require driving the bolts through the hinges. If this is the case with your toilet seat, drop each bolt through the holes on either side of the toilet bowl, as opposed to driving them through the hinges first, then fix them in place with nuts. Your toilet seat hinges will snap onto or slide over the bolt head.
Most importantly, double-check the instructions that come with your new toilet seat if you have this kind of toilet seat.
What Should I Know Before Moving into a New Rental Home?
Now that you have signed the tenant lease agreement and sorted out the main issues from parking to pets. Even though you are moving in, you are certainly looking at your new digs even more closely, and without doubt, the move-in questions start to ring in your head that you didn't think through before.
However, you don't have to worry because we have you got covered. Here are the things to know before moving into a new apartment:
Should I change the locks?
It is normal to be worried at the thought of the previous renter having a copy of keys to your apartment. But can you have the locks changed or did the landlord handle them? Check through your tenant lease term and if you don't see a particular mention about this, ask the landlord.
Although the laws on this vary from state to state, chances are that you will have to keep the apartment owner or property management company in the ring because they will certainly request a copy of the keys for emergencies.
Should I change the toilet seats?
Whether you are replacing your apartment toilet seat for hygienic or cosmetic purposes, changing the toilet seat is one of the most budget-friendly and incredibly simple upgrades you can do in your newly rented apartment.
However, you might not have to pay for your toilet seat replacement at all. According to landlord Craig Roche, the small low-cost improvements such as change of toilet seat, shower bars and hotel-style clotheslines often makes the tenants happy. Therefore, before you fork over the money, ask your landlord if they will be willing to make such a small apartment improvement at their own expense.
Can I plant a garden if the lawn is my landlord's responsibility?
Often, tenants are not permitted to alter a rental property's landscaping minus involving or getting a go-ahead from the landlord. Even when you think it is going to bring value to the property, your landlord might disagree.
Unfortunately, you can't bribe your property manager with your beautiful homegrown vegetables. However, you can find a middle ground, so to speak and practice your farming skills. For instance, you can try a container garden or hanging garden or even find an area to plant within an existing flower bed. But if you come to an agreement with your landlord, make sure to sync with your city's regulations.
Can I be an Airbnb host?
Even though most apartment leases clearly state whether long-term subleasing is allowed, there is a bit grayer area when it comes to peer-to-peer renting of an apartment while the original tenant still inhabits the apartment.
However, whether or not this aspect is covered in your lease term, most renters find this to be a security issue and don't allow it in their apartment premises. Regardless, keep in mind the potential ramifications before you list a room.
Should I Document Pre-Existing Damage?
Definitely, yes. Take move-in photos as documentation as well as landscape shots if the lawn is under your care. Moreover, it would be a good idea to note any damages on the landlord's move-in checklist. But if there isn't any checklist, be sure to make your own, sign it and date it.
Landlord and Tenant Responsibilities
Under the lease agreement, both the tenant and the property management company or the landlord has different responsibilities for doing repairs on the apartment or rental property.
Landlord's Responsibility on Plumbing Structures
Clearing blocked sewer, septic tank, drains and external waste pipes but not road gullies or waste pipes blocked by tenant misuse.
Repairs or replaces boilers and hot water cylinders
Repairs or replaces pipework, radiators, fittings and valves
Tenant's Responsibility on Plumbing Structures
The tenant is responsible for stoppers and chains for baths, sinks and basins.
Replacement of washbasins, toilet bowls and toilet seats except where damage or discoloured through wear and tear or by faulty installation.
Replacement of baths, sinks, and drainers – except where damage or discolour through wear and tear or by faulty installation.
Landlord's Responsibility on Doors and Windows
The landlord is responsible for:
Window frames, sashes and window furniture
Hinges, locks, handles, trapper bars and letterboxes on external doors
Repair or replace defective internal and eternal doors, door frames and saddles
Tenant's Responsibility on Doors and Windows
The tenant is responsible for:
Locks, hinges, and handles to internal doors
Bedroom and kitchen unit doors, door hinges, handles and catches on drawers
Replacement of broken glasses
Draught proofing of doors and windows
Landlord's Responsibility on Electrical Repairs
The landlord is responsible for the following electrical repairs:
Repairing electrical appliances, fires, and heaters were fitted by the landlord
Electrical wiring
Door entry system to communal blocks
Socket outlets and switches
Ceiling roses, lamp holders and flexes
Tenant's Responsibility for Electrical Repairs
The tenant's responsibility for electrical repairs include:
Repairing electrical appliances, heaters and fires not installed by the landlord
Doorbells and plug tops on appliances
Re-setting trips and replacement of fuses
Landlord's Responsibility for External Works
The responsibility is responsible for:
Repairing garden paths, fences, walls, and gates. installed by the landlord
Do replacement of wheelie bins every seven years where replacement is necessary
Do maintenance of communal amenity areas, unless the local council is responsible
Do replacement of rotary clothes driers
Do outdoor repair work involving structural repairs to outside doors, walls,
windows, roofs, valleys, chimneys, gutters, house drains, and downpipes.
Do external paintwork
Tenant's Responsibility for External Works
The tenant is responsible for the following:
Cleaning gully trap
Do care and upkeep of gardens and hedges
How much will it cost me to replace a toilet seat in your rental apartment?
A toilet seat is an important part of any bathroom, especially on a rental apartment you want to move in, a poorly fit, uncomfortable or worn-out toilet seat in your apartment bathroom can significantly downgrade the aesthetic appeal of your entire bathroom.
Whether you are replacing a new toilet seat as part of a major bathroom renovation or improving comfortability is a simple way to improve your bathroom's functionality. But how much will it cost you?
Do Apartments Replace Toilet Seats? The Cost of Replacing Apartment Toilet Seat
A standard toilet seat can cost you an averagely of $ 47 per seat with a range between $28.25 to $67.32. The total cost for labour and toilet seat is on average $133.78 or at most $161.52. However, the real cost will be dependent on locations, conditions and the finish option you intend to choose for your toilet bowl.
Like any other project that may seem all that easy, replacing a toilet seat for your apartment toilet may deceivingly intricate. Consider hiring a professional plumber to help you install your toilet seat should you find the process overall complicated. Besides, they can handle any necessary repairs to your apartment toilet and ensure it is completely efficient.
So, do apartments replace toilet seats? No, it is the tenant's responsibility. However, the landlord can be responsible if such a replacement is captured in the lease agreement at their own expense.