Best Selling Duct Tape
How big are above ground pools? This is a question you should answer before thinking about a pool in your backyard. This will increase your family's bonding time, cooling off, and relaxing on those sunny afternoons while keeping fit in the comfort of your backyard at a pocket-friendly price.
Aboveground pools are easy to install, inexpensive, and offer quick solutions to your swimming needs. But how big are above-ground pools? You want to make sure that the size of the pool is suitable for you and the members of your family.
Here is everything you need to know about the various above-ground pool sizes and shapes. Let's delve right in.
Above Ground Pool Sizes
How big is an above-ground pool? If you are considering purchasing an above-ground pool, you must keep in mind the size. This includes the shape of the swimming area and depth.
Typically, above-ground pools are smaller than in-ground swimming areas, but you can still find a larger above-ground pool that accommodates your family's needs. Wondering how big an above-ground pool is? Let's dive in.
1. Above Ground Pool size
Above-ground pools come in different sizes. These sizes range between  12', 15', 18', 21', 24', 27', 30', and 33'. Now the size of your pool will depend on the pool shape.
2. Above Ground Pool Shape
Above-ground swimming areas have different shapes. However, the most popular forms are the round and oval pools
Oval Pools
The typical size range of oval pools is 15'x24', 15'x30' & 18'x33. An oval-shaped pool is 21×41 feet in diameter.
Round Pools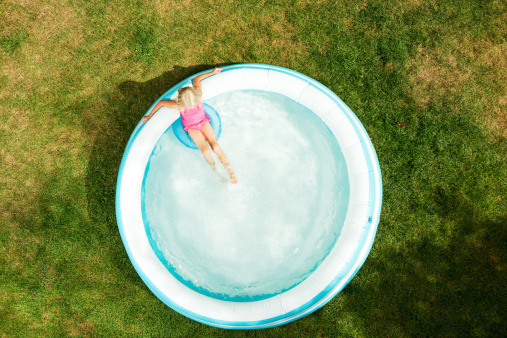 A round pool size range is 15', 18', 21', 24', 27' & 30'. That said, a small round pool measures 12 to 18 feet in diameter, and a larger pool goes up to 33 feet.
3.Depth
The depth of an above-ground pool refers to its wall height. Therefore, the taller your pool is, the deeper it is. Now your pool's wall height will depend on the pool's model and the manufacturer. That said, most pool's depths range from 48″ to 54″ deep.
So, does this mean that your water depth is directly proportional to the wall height? Well no. This is because, when installing an above-ground pool, you have to fix a 2-inch bottom. Additionally, you have to account for the usual 6 inches from the top of the wall to the actual beginning of your waterline. Remember, you cannot fill the pool up to the top of the walls. This, therefore, means that your water depth will be 8 inches shallower than the pool's wall height.
So if your pool was 5o" deep, the depth of your water is 44″ and so on.
What to Consider When Choosing Your Above Ground Pool Size
So, when thinking about having a pool in your backyard, the biggest one available in the market is often at the top of your list. This means a more extensive swimming area for your loved ones, after all. However, purchasing the most extensive pool is not always ideal. You may not have sufficient space to store the swimming area, not to mention exposure to huge pool maintenance costs.
For this reason, you should have a buyer's guide to help make the choice of an ideal pool size easier. Don't have one already? Here are factors to consider when choosing the size of your above-ground pool.
1. Space
When determining the ideal pool size, space where you will install the above-the-ground swimming pool is crucial. The available space should accommodate your desired pool size. You cannot purchase the most extensive pool if you have finite space.
When allocating the space for your above-ground swimming pool, you have to keep in mind that a pool may not be the only thing you want in your backyard. For instance, you may want to add a patio, decorations such as flowerbeds and shrubs, or even leave enough space for your kids to play. Therefore, you should consider such factors when determining the space and, in turn, the size of your pool.
Additionally, you have to consider the laws and regulations of your location. See, some areas require that you leave a certain distance from the property line. So ensure that you do not break any laws in your attempt to give your family a swimming space.
Remember also to leave space to walk around when not in the pool. This, therefore, means that the pool size you choose should leave space against walls and fences.
2. Family Size
The number of people in your family is essential to consider when deciding the size of your pool. This is because you want to buy a pool that is big enough to accommodate everyone. You do not want your loved ones to be clamped up together, or do you?
Now a swimming pool is an expensive long-term investment. For this reason, you should be future-oriented when choosing a pool size. If you are a young couple, you may be comfortable with a small-sized pool, a 14×25, perhaps? But as your family grows and you have children, this pool size may not sufficiently serve your home.
In addition to that, you have to consider how frequently you host guests or parties and the number of people that visit. Once you have reliable predictions, you can then go ahead to decide the size and shape of your above-ground swimming pool. Remember not to go for a humungous pool if you only host one or two large parties within a year.
3. The Purpose of the Above Ground Swimming Pool
How do you intend to use the pool? If you are looking to use the pool for recreational purposes, you know, to take dips on those sunny afternoons, then an average-sized pool may be ideal for you.
However, if you are an athlete, or you need a pool where you could take swim laps, then you may want to go for a larger pool,  30 ft. in length, perhaps? Ensure you consult your family to determine the function of your pool. You should make sure that each member is accounted for.
4. Pool Maintenance
There is more to purchasing a pool. You have to make sure that it is cleaned and properly maintained at all times for thrilling swimming experiences. You do not want to put your family's health at risk. That said, your pool's size contributes a great deal to its maintenance.
The larger the pool is, the more time you will spend cleaning it and the more money you will spend purchasing pool chemicals. Pool chemicals are essential in keeping the pool water healthy and fit for you to swim in. So, before you go ahead to purchase the most extensive pool available, ensure that you have enough time and money to keep the pool clean and well maintained.
5. The Cost
Like when purchasing any other product in the market, you have to factor in the cost of your above-the-ground pool. Often, the bigger the pool, the more expensive it is likely to be. Therefore, ensure that you can comfortably afford the pool size you intend to purchase.
In addition to that, you should factor in the installation costs in your budget. The installation process may be complicated and tedious; therefore, you may need to contact a professional to install the pool. So ensure that you choose an affordable pool size, one that allows you to stay within your budget when purchasing and further installing it in your backyard.
6. Safety
Safety is a priority for every pool owner. Therefore, ensure that you purchase a pool size that guarantees safety for the pool users. A larger, deeper pool can pose a danger to swimmers, especially children; they may experience difficulties when trying to get off the pool. So, ensure that you factor in the ability and safety of the users when choosing an ideal pool size.
Additionally, consider the positioning of your desired pool size. Ensure that the pool can be positioned in a way that you can restrict access, especially when you have children or pets in the house.
Types of Above Ground Swimming Pools
The best thing about investing in an above-ground pool is that you are not limited to one design or model. The above-ground pool manufacturers understand that their customers have varying tastes and preferences. For this reason, they present you with plenty of options to choose from.
The following are the various types of above-ground pools.
1. Inflatable Above Ground Swimming pools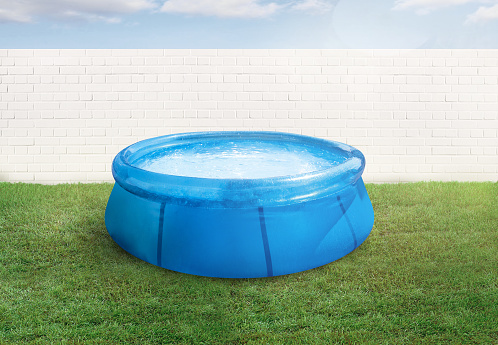 An inflatable above-ground pool is a swimming area made of quality vinyl. This type of pool has a ring that inflates, allowing the pool's walls to rise as you fill it with water. Inflatable pools, also known as Intex pools, are a fantastic way to cool off and enjoy the sunshine as they are ideal for families with limited yard space.
What's more? These vinyl-made pools have affordable purchasing costs, are easy to install, and bring no permanent alterations to your property. And when not in use, you can easily tear it down and store it away.
However, inflatable pools are difficult to keep clean and maintain as the equipment included is not large enough to accommodate the volume of the water.
2. Steel Above Ground Pool
If you prefer a durable and long-lasting above-ground pool option, then you should consider installing steel pools. These types of pools are made of strong steel frames that include vertical supports and side rails. However, the side pool walls and bottom are made from durable vinyl, plastic, or resin.
The steel swimming areas can go up to 22′ to 52″ in depth, are easy to install, and come in different sizes and shapes.
However, you may incur more cost in purchasing a pool ladder as the ones provided are no sufficient. A steel pool is further vulnerable to rusting and is not ideal if you are frequently moving as it is heavy.
4. Aluminium Pools
These pools are made entirely from aluminum, and their walls have a powder coating that adds a glossy luster to the finish. Aluminum pools are not subject to rusting and corrosion thanks to the powder coating.
Today, aluminum swimming areas are quite popular because of their ability to handle different weather conditions. Installing aluminum pools is fast and easy, and since they are lightweight, it is easy to disassemble these types of pools and transport them.
However, aluminum is subject to constant oxidation; therefore, your pool manufacturer will recommend regular protective coating maintenance; thus, you may incur additional costs.
5. Hybrid Pools
These are pools made from both steel and resin. A hybrid swimming area has resin joints, and side rails, and steel vertical uprights. These materials work together to decrease the shortcomings of one another.
For instance, the parts of the frame exposed to sun and water are made of resin as it does not rust or corrode. On the other hand, the vertical portion of the above-ground pool is steel to provide support.
6. Resin Pools
If you intend on swimming all year round, you should definitely consider purchasing a resin above-ground pool. As the name suggests, these types of pools are made from durable plastic, resin. This material is strong, resists warping and dents, plus you do not have to worry about it getting too hot, as is the case with steel.
What's more? The resin swimming area does not rust or corrode, saving expensive repair and maintenance costs.
7. Semi-In Ground Pool
Do not let your slopy or uneven ground deter you from installing an above-ground swimming unit. Semi-inground pools are perfect for such locations. These pools walk the line between an above-ground pool and an in-ground pool; they are partially or completely buried on the ground.
A semi-inground pool, also known as radiant pool, comes with a complete insulated wall panel that is 2″ thick, has diverse shapes, including round and oval, and can easily be erected.
However, this type of above-ground swimming unit is more permanent; therefore, it may not be ideal if you would like to move in the future.
How to Install Above Ground Pools
Suppose you are working on a tight budget and can't hire an above-ground unit installation service provider. Well, in that case, you should consider doing it yourself. Above-ground pools are quite easy and fast to install. Don't know how to go about this? Follow the following steps.
Step 1: Gather Installation Equipment
Ensure that you have all the equipment you need to start installing your swimming area. Such equipment includes;
Wrench(5/16 and ¼)
Rake
Sand
Tape Measure
Landscape Stakes and C-Clamps
Patio blocks
Duct Tape
Shovel
Skimmer
Level
Box cutter
Step 2: Prepare The Area
Once you have all the equipment you need, the next thing is to prepare the area you plan to have the above-ground pool installed. You can do this by excavating and leveling the space.
Ensure you have an outline of how you want your pool to look and measure it. You should then clear any unwanted materials from the surface using the rake. To ensure that the ground is leveled up, dig down any high areas.
Step 3: Constructing The Pool
Once your yard is clean and leveled, the next course of action to take is to start the construction of your swimming unit. You should, therefore;
Create the bottom ring of the pool using plates, stabilizers, and rails and support it.
Set the pool wall. This can be done by using the tracks on your bottom plates. For the best results, keep adjusting the plates in and out to ensure that the pool wall fits properly
Put the pool wall together carefully to avoid scratching it
Install liners while securing the pool walls with the top track
Attach posts to secure the pool walls and the liners
Install top rails, top covers, and top plates correctly, and voila! You have your above-ground swimming pool.
Remember to connect the pump and the filter system to help your pool remove dirt and debris that may accumulate in the swimming area in the future.
Step 4: Fill The Pool
Once the installation process is complete, you should fill it with water to start enjoying your afternoon swim.
But before that, ensure that you wrinkle out the pool to create a straight surface for your pool floor. You could also vacuum the pool to remove any air between the pool walls and the liners.
Remember to add safety warning labels on your installed swimming unit, as this keeps your warranty from being voided. If you do not have the labels, contact your pool manufacturer for free replacements.
Benefits of Above Ground Pools
You could install various swimming pools in your home, including the in-ground pool or the above-ground pools. Wondering whether you should go with the above-ground unit? Here are some of the benefits of an above-ground pool.
Let's dive in.
1. They are Cost-effective
Often, the cost of a swimming unit is what may keep you from having one in your backyard. However, since above-ground pools are temporary, they are pretty inexpensive to purchase. What's more, unlike an inground pool, above-ground swimming pools are easy to install; therefore, you do not have to use more money on hiring an installation service.
Therefore if you are looking to give your family an incredible swimming experience at a pocket-friendly price, consider buying the above-ground pools. However, ensure that you purchase your pool from a reputable dealer for the best quality pools.
2. Fast and Easy Installation Process
Installing an inground pool can be complicated and time-consuming. For instance, you have to dig a huge hole in your backyard and add concrete, all of which take a lot of time and need proficiency. You further have to contact a professional to install an inground pool.
However, above-ground pools are easy to install. You can even install them yourself. What's more, it could even take a day to have an above-the-ground pool up and running. So, if you want a swimming pool in your backyard within the shortest time possible, choose the above-ground pool.
3. Easy Maintenance
Maintaining a clean pool is crucial for every pool owner. It helps keep your family healthy. However, an inground pool is subject to dust and particles, which may be difficult to clean, not to mention that you have to spend a lot of time doing so.
Since an above-the-ground pool is elevated, dirt and debris do not easily get into the swimming area; therefore, it is easy to clean. Besides, it is easier to install a pool cover on above-ground pools compared to inground pools.
What's more? All the above-ground swimming unit parts, including the walls and the floors, are easily accessible, hence easier to clean. The repair cost of a damaged above-ground pool wall or bottom is lower than that of an inground pool.
4. They are Portable
If your job description subjects you to the constant moving of houses and residential locations, building a permanent in-ground pool can be a waste of your money. Why not consider installing a portable pool?
An above-ground pool can easily be disassembled when moving and assemble once you get to your preferred destination. So you have a swimming pool anywhere you move to at no additional cost.
5. Use Less Space
Above-ground pools come in different sizes and shapes, including round and oval pools. Now thanks to their diverse size option, they can easily fit in the available space in your yard, whether it's small or huge. This is not the case with inground pools as they require digging to install, which may take so much of the yard's free space, not to mention the required surrounding concrete or deck.
6. More Safety
If you have small pets and children in your home, you may be reluctant to have a pool installed. This is because you have to keep in mind their safety first. With an above-ground pool, you do not have to worry about someone accidentally slipping and falling into the water because, as the name suggests, they are above the ground.
What's more? The pools are easier to get in and out as they have an all-around handle that prevents slippage. Above ground pools depth ranges between  48 to 52 inches; therefore, they are shallower than an inground pool and, in turn, safer.
7. Diverse Models
Above-ground pools have different types, sizes, and shapes, including round and oval pools, and are made from different materials giving you a wide variety to choose from. Therefore, you have control over how you would prefer your pool to look and the layout. What's more? You have flexibility on the costs and space thanks to the numerous options.
Frequently Asked Questions
Here are some of the questions potential above-ground swimming pool owners ask.
1. What is the largest round above-ground pool you can buy?
The size of above-ground pools depends on their shapes. The largest round pool is 33 feet in diameter, while the smallest one is around 12 feet. For the oval shape, the largest one can be 40 feet long and 20 feet wide.
2. Is an above-ground pool worth it?
Yes. These pools are the least expensive of all pool types. Plus, they can easily be erected in your home and ideal for limited space. However, these pools are temporary and can easily be moved; therefore do not add value to your home.
3. What is the most popular size above ground pool?
This often depends on the pool's size, shape, and depth. That said, 15 feet by 30 feet, 50-inch deep oval-shaped pool is the most popular.
4. Do you need to insure an above-ground pool?
The state requires that all swimming pools be covered under an insurance coverage policy. As this kind of swimming area is detachable, it cannot be covered under the homeowner's policy; therefore, you have to file insurance coverage under "scheduled structure" or "other structures blanket coverage."
5. Is a 12-foot above-ground pool too small?
A  12-foot above-ground swimming area may appear small because you may not do the desired swim laps or play exciting long games. However, you can be sure to cool off during the sunniest times of the day, especially if you have limited space. Better than having no pool at all, right?
6. What is an average size above ground pool?
This depends on the pool shape and depth. For round swimming areas, the average size ranges between 33 feet in diameter. For the oval and rectangular-shaped swimming areas, a range between 12 x 24 feet to about 18 x 44 feet is standard. These pools' average depth ranges between 48″ to 52″ deep and requires level surface and access to water and electricity.
7. Which is better, a round or oval above-ground pool?
Well, this depends on your taste and preference. That said, most homeowners will go for the round pool as it has a pocket-friendly price compared to the oval pool. What's more? The round pools provide more swimming space and are easier to erect and maintain.
Conclusion
Above-ground pools are among the best pool options for your home as they are affordable to purchase, easy to install, safer, and can be moved. They also come in different types, including aluminum, steel, resin, semi-inground and hybrid pools.
The above inground pools have different sizes that range between 12', 15', 18', 21', 24', 27', 30', and 33', and further have a depth ranging between 48″ to 52″. What's more? These pools come in different shapes, with the most popular being the round or oval pool.
However, it is worth noting that the largest pool is not the most ideal. For this reason, consider your family's size, space, cost, and pool maintenance when choosing your above-ground pool size.