How To Build a Glass Wall Pool
Best Selling Pool Cover
Glass wall pools add some ambiance and novelty to homes. They offer numerous options such as spas and bar tops with a great view. This pool design has become more popular as it is modern and aesthetically appeals to people, making it an excellent choice for some luxurious hotels.
You can use different materials to enhance or achieve the appearance you desire. For instance, light-colored concrete, mosaic tiles, or dark tiles. Some swimming pool owners prefer having one or two windows while others put glass all around.
If you want to learn more about how to build a glass wall pool, let's delve in.
Glass-Walled Swimming Pool Designs
1. Acrylic Swimming Pool Design
This design fits acrylic of specific measurement like 2.5 inches thickness into the columns' slots. When making an acrylic swimming pool, you need to consult a structural engineer and an acrylic manufacturer to ensure no leaks and maintain structural integrity.
To enhance the front vanishing edge and the negative side at the back, you need to level the swimming pool perfectly. In addition, set up the water filtration specifically for even flow on each wall.
You can have straight, neat lines, columns, and LED lights to make the swimming pool more appealing. Additionally, you can also match the tiles with those of your house to make it more stylish.
2. Acrylic Spa Design
This swimming pool design incorporates an acrylic spa in the glass-walled pool. You can have it at the center of the swimming pool surrounded by water or on one end, depending on the look you want to accomplish.
A spa with a diameter of 9-foot and 2.5 inches inner thickness sitting twelve inches above the pool is usually a great option. You can also make it the focal point using LED lights to distinguish its color from the swimming pool.
Other popular designs you may choose from are 3 Sided Support Overflow, 3 Sides Support non-overflow, 4 Sides Support Non-overflow, 4 Sided Support Floor Non-Overflow, and the Cantilever Floor and Wall Non-Overflow.
How to Build a Glass Swimming Pool
Choosing the Material
You can either use glass or acrylic to build a glass swimming pool. However, most people prefer glass material for their pool construction. So, what is the distinction between the two that leads to this inclination?
1. Glass
Glass material is cheap, and you can easily manipulate it to make larger and thicker panels. Glass also retains clarity into and outside the pool regardless of its thickness.
Nevertheless, some people consider it too much work to compact several layers of glass together. Also, unlike acrylic, glass can blow with no warning; therefore, you need to have an experienced engineer to avoid construction errors.
2. Acrylic
Acrylic is expensive, but it allows you to fit one large portion for a full glass edge. Constructors determine its thickness based on the need to prevent deflection. While deflection may not lead to panel failure, it can cause microscopic cracks that interfere with clarity.
Sometimes the deflection can bulge the material, making it appear unsafe even when it is not. Hence, it can repel clients away if it's in a hotel building. To avoid this, ensure you remain within the recommended measurements.
Sourcing for long acrylics panels of up to 24 feet is easy; thus, most contractors find it suitable for pool construction. However, getting those beyond this size can be challenging. But, thanks to mullion, you can join the panels to achieve the desired size.
Installation
After choosing the material, what happens in the field? Typically, most builders don't install the panels; rather, they let manufacturers and installers fix these parts. These professionals have different approaches to adding glass or acrylic to the pool.
The installation process also varies depending on the application. For instance, when installing acrylic panels for vanishing edges, the installer has to ensure there is no rotation. In addition, since such walls are not anchored at the top, they have to be placed deep (three times their thickness) into the ground.
In the case of windows anchored on all four sides, the installer fits at least the thickness measurement of the panel into the concrete. So, if you have a 4 inches panel, it should go into the concrete by 4 inches.
When constructing the section around the window, it is vital to leave a space; at least one inch. This space will fit blocks, sealants, and rods to secure the panel.
The rebate holds up the window preventing it from popping through. You may also need to have 12 inches wall around the panel for enough reinforcement. If this measurement is not met for the entire panel, ensure it's adhered to around the windows.
With enough space and construction integrity, you will have one of the best swimming pools in your backyard!
Things to Consider When Designing for Glass Swimming Pools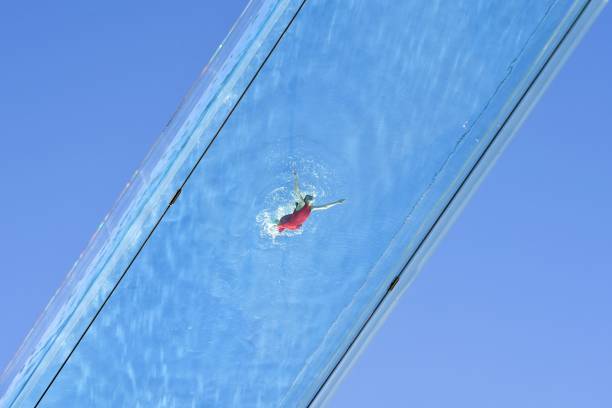 When planning for an acrylic pool, the designer needs to consider some fundamental factors. They include:
1. Expert Advice (Engineer)
Design is paramount as it helps you achieve your dream pool outlook. Nevertheless, even if you want to have a beautiful glass pool attached to the top or hanging from your rooftop, there are engineering deliberations you need to make.
For instance, using the right amount of grout, caulk, and waterproofing agents does not guarantee leak-free swimming pools. The acrylic pool has to be engineered to prevent leakage and offer enough buttress to the panels.
After the pool is complete, the water will push the window. Thus, the design and construction of the concrete sill and the surroundings have to transfer the weight to the window and not the sill.
Additionally, the concrete framing on the window will carry much weight compared to standard swimming pools making engineering an essential part of the design. Here are some of the engineering considerations you should adhere to
Reinforcement
Usually, engineers advise you use more steel prop and higher-strength concrete mixtures. Using poured-in-place concrete is also recommendable instead of gunite or shotcrete. These leave a neat and even surface making it easier to fit the glass straight and apply a waterproofing membrane.
Construction and Waterproofing
If you decide to use gunite or shotcrete on the other parts of the glass-walled pool, ensure you have a cold joint to bond the window frame area with the shot product.
Engineers will also tell you what waterproofing you need to use on the walls, panels, or around the windows. Getting waterproofing that is compatible with the panel is crucial for structural integrity.
2. Finish Deliberations
How do you want to finish your glass swimming pool? Whether you are using a glass or an acrylic wall, you need to ensure it is well cared for because it can sustain scratches. To keep everything clean, you can have tile borders that extend 3 to 6 inches around the panel's exterior.
With the border, if you add pebble or plaster on the interior, the elements will rest away from the window. Avoiding contact with the window gives you an easy time when cleaning the plaster. You don't have to worry about scratching the walls.
3. Expansion and Contraction
Acrylic expands and contracts more compared to concrete. Consequently, when performing your pool project, you need to use flexible waterproofing agents and grout unless your manufacturer or installer recommends otherwise.
Because the expansion and contraction can increase with the panel's size, some installers join smaller pieces with mullions. This connection allows every piece to move separately.
If you are making a vanishing edge using acrylic, this consideration is vital when building the pool. The reason being, the panel will also become taller as it expands and contracts. So, you should avoid installing the panels during temperature extremes and set the hydraulic system properly.
Tips for Building and Maintaining Glass Wall Swimming Pools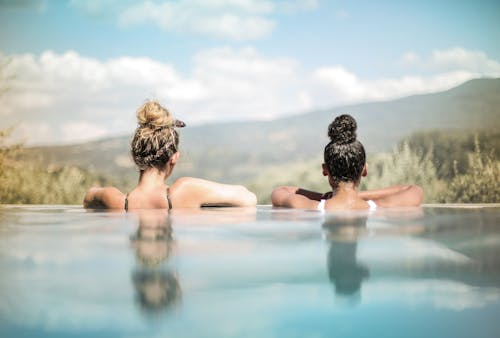 1. Choosing a Contractor
The search for the best contractor can be challenging due to the numerous companies in swimming pool construction. But you can still settle for a contractor who values their clients and is committed to building the best glass pools.
Whether you want a raised or ground-designed pool, you can get the right contractor. So, how do you get the best service provider? You can start by visiting one company's website and compare the cost with other companies.
Also, check through the different projects the company has executed before. That will give you an idea of what will be designed and built for you.
Before you settle for a company, make a phone call to a friend or relative who has worked with them before and see whether you like the pool built by the contractor. Remember, you need a pool that will improve your outdoor living and serve you for a long time.
2. Establishing Expectations
After viewing different acrylic swimming pools online, you may be excited about the vanishing edges. However, such a project can only give you the illusion when at certain angles and distances.
Consider your landscape and the possibilities that come with the raised or on-ground designs. Then think about how it will blend with your home design. All these considerations will help you have the right expectations.
3. Keeping the Pool Clean
After installing your pool and spa, you will want to enjoy the look through the panels. Consequently, you need to ensure no workmanship flaws and boost filtration to keep the water clear.
Conclusion
Planning to add a stunning pool to your backyard? Acrylic pools are the best when improving your outdoor space. Their modern look will allow you to see the water from the inside or outside. With construction integrity, you can also have an incredible spa in your backyard!