How to Build a Small Inground Pool
Best Selling Container Pools
Not sure how to build a small inground pool? Consider this -small inground pools are not just for people with huge budgets and big yards. In fact, they are the most affordable and coolest DIY pools you can find in many homes with small backyards.
Small inground pools are becoming popular everywhere where the pool can fit. Having a home with a nice swimming pool to relax with family, especially in summer, is the best idea.
Now, you already have an idea of the swimming pool size you want. But how long will it take you to actualize your dream? Here is a step-by-step guide on building a small DIY inground swimming pool for your outdoor space.
The first step to building your inground pool is identifying the best location in your backyard. A small pool location is determined by its depth, size, and orientation.
Consider consulting your local utility company for help in marking the location of your underground utility lines before concluding on pool location. Please choose an area with fewer trees to avoid leaves on the pool during autumn, above the slope to avoid debris when it rains, and direct to sunlight for natural warming of the water.
Choose a flat terrain space in your backyard, as it will reduce the cost of excavating and filling while still accommodating future regular maintenance.
After identifying your swimming pool location, think about how you want it to look. Consider the shape and size that will fit in your backyard. Most DIY inground swimming pools for home use have a standard size. You can't build a pool without a design.
Add in the features you will install like lighting, spa, pool steps, exits, entrances, and any other fixtures. At this point, engage your pool builders or designers to discuss further and draw the pool design in a simplified 3D technology. It can take the designer a few days to come up with the perfect design for your pool.
PS. Any complex additions to the design add extra cost.
You will be required to take your drawings to your city council to approve and issue a building permit. This permit communicates to the neighbors, city officials, and local building professionals that you have permission to build an inground pool.
It highlights the requirements and specifications for your pool because building an inground pool involves many safety concerns to the environment and the neighborhood at large.
If you are not building a DIY inground pool, hire a pool builder who will bring your dream to reality. Do a thorough search on the best contractors who hold valid practicing licenses for swimming pool building and have years of experience.
The small swimming pool builder will help you break down the budget into phases and help obtain the permit if you don't have one. Remember to factor in their labor cost in your total budget.
Once the drawings and permits are in order and you have identified the best small pool contractor for your work or you DIY, you could start the project by:
·       Measuring and marking the ground according to the pool's dimensions. Not forgetting any additional features like pool steps and wall placement.
·       Digging out the soil to create the pool. The easiest way is by using a backhoe if there is enough space and there are no underground utility connections.
·       Ensure that you are following up on the plan to get the actual pool measurements when digging the pool. Any leftover soil can be used for other projects on the property. The excavation period depends on the type of your soil, the depth of the pool, and the tools used.
6
Grade and Level the Pool Base
The base is the most important part of a pool. After excavation, it's important to level it evenly using a steel rake. Use a carpenter's level to get the recommended pool gradient.
Remember to level the pool according to your initial design. For example, if your design was showing two different levels, i.e., the shallow and deep end, level the small swimming pool bottom considering that.
7
Frame the Walls with Steel
After excavation and grading the bottom surface of the small pool, you can now lay steel bars and wooden boards on the sides and on the base of the pool to form an outline.
These concrete rebars are then covered with a net before pouring shotcrete, enabling them to form a strong frame.
Pool plumbing is complex and thus requires you to contact a licensed plumbing expert to set up the water circulation system in the DIY inground small pool. This includes installing skimmers, valves, and the pump responsible for moving water in and around the pool.
The process takes around two days, depending on the availability of building inspectors. Referring to your original plan will help the plumber to know the best route to dig the PVC piping trenches and link them to the water mains.
Unlike in above-ground pool ideas, all the piping work is kept underneath and the rebar in the inground small pool designs. Poor plumbing craft can be quite expensive and damage your new small pool.
9
Electrical and Filtration System Installation
Like the plumbing works, electrical installation requires an expert as the wires run beneath the ground pool. Any additional features like a fire pit powered by gas also run underneath and require special inspection by fire and safety engineers.
If you DIY, contact an electrician to fix the electrical and filtration system. The filtration kit and underwater lighting are powered by electricity.
Before concreting, link the pump and the filtration kit. Place them in a tank made of concrete or metal, then connect to the main water line for freshwater uptake. You can also fix a waterfall at this stage.
An experienced plumber will save you from electrical shock and unnecessary fire in case of faults.
Lining the pool may take 1-3 weeks, depending on what you are using. Vinyl and fiberglass pool liners are the fastest as the liners are installed directly. Guniting will take longer as a team will be put in place to spray the concrete and cure it twice a day for 14 days.
If you put up a concrete swimming pool, pour out the shotcrete on the floor and walls. The concrete will hold in the steel rebar.
For the wall to have a fine finish, you can add a plaster cap over the concrete or use cinder blocks. You can also coat the concrete pool basin with waterproof tile like glass, ceramic, and porcelain which are most popular.
Although expensive tiles are easy to install and easy to clean, unlike other finishes, and last up to 10 years compared to other alternative DIY finishes that lasts averagely 5-8 years.
Coping is a simple DIY pool idea installed around the lip of the pool. This is the space on top of the pool used as a walking room around the inground pools. Coping is mainly done using tile, concrete, marble, or stone. It all depends on your budget, although each style offers a different level of beauty to your outdoor plunge pool.
Use a mortar and grout just like you did when lining the DIY pool. It will take you 2-7 days, depending on the complexity. Also, if there are other pool installations like a waterfall, fix them at this stage. Again wait for two days after coping before filling your small backyard ground pool with water.
12
Fill the Pool with Water
Your DIY ground pool project is now ready to function. Use a hose to fill the pool, although it will take time, or you can use a water boozer to fill it faster.
Ensure there are no leaks around, and in case you need to repair them, you will empty the pool first. You can now swim at your convenience this summer.
13
Landscaping and Decking
After completing your swimming pool installation project, you can add features like a natural beautiful flower garden or terraces around the outdoor pool to spruce it up.
You can also add a fire pit, a patio, or a simple gazebo with unique features to make the pool's area look lively. Also, consider custom-made lighting around the pool's garden fence.
 Types of Inground Swimming Pool
Inground swimming pools are permanent structures built directly into the ground. There have been various small backyard ground pools to choose from with the current innovations in material and technology.
They differ in cost, benefits, features, and durability. Consider choosing the type of pool that is within your budget and meets your long-term needs. Here is a detailed list of all the available DIY ground pool types.
1. Concrete /Gunite Pools
Concrete is also known as shotcrete or gunite, is the most popular material for DIY pools and the most expensive since it requires intensive craft. The difference in these names is the method of application on the walls.
Concrete is poured on walls and base then customized to your pool designs when wet. Finishing can either be plastering, tiling, painting, or another finishing you would like. It takes time to construct due to complexity and curing periods.
Of all the other types of pools, concrete proves to be more durable and lasts longer. Again its construction cost is dependent on the finishing you choose. Meaning you can finish with materials that align with your budget.
2. Fiberglass Pools
Fiberglass pools are the best alternative for concrete pools. They are prefabricated in a factory and shipped as one piece to fit your excavated hole via a crane, thus easy to fix.
They are strong and lasts up to 15 years before deterioration due to too much exposure. Fiberglass pools are not customizable, thus limiting your design options, although they have a fine interior finish that is super clean and does not attract algae. They are perfect for house pools.
3. Vinyl Pools
Vinyl pools are most popular with small yards and budgets since they are cost-effective and easy to fix owing to nonstandard size and shape. It is a lining that requires a material to hold the frames and give it a pool small structure.
The available options are polymer wall vinyl-lined, cement wall vinyl-lined, and steel wall vinyl lined, which is the most popular.
The steel frame is set to the excavated ground sitting on a sand or concrete base. Then lined with a vinyl coating to form a pool small structure held tightly at the top by the round coping finish. It has a variety of colors and patterns for small pool ideas.
Although vinyl is fragile, it can last for 18 years if it has a fungus and UV inhibitors. However, the normal vinyl deteriorates over time due to chemical exposure and will require replacement every 10 years.
4. Container Pools
Shipping containers can also be used for the construction of container pools. They are prefabricated and lined with fiberglass before being shipped to the excavated ground. The filtration kit is lined with gunite at the base then connected to the container.
This pool is less expensive compared to other house pool designs and has an added advantage of mobility. I. e you can relocate it to any place. It also comes with clear panels and hot tub partitions. You can decorate the top with round tile nice coping
5. Dunk Pools
Made of steel, the dunk pool is extremely durable and utilizes small backyards or even a room. They are easy to install and maintain than other types yet cheap. They are lined with a round of wood to give a rustic finish. They are suitable for kids wanting a splash or adults wanting a cool off in summer.
Small Inground Pool Ideas for Your Yard
1.   Raised Deck Pool
Decking is the best way to transform your small pool ideas into beautiful views, especially in a crowded area. A deck pool is cheap and easy to install yet gives your home the appealing look it deserves.
2.   Plunge Pool
The plunge is a rectangular-shaped pool and measures 12 feet by 7 feet-very small, yet it serves its purpose and fits well in your backyard or house. It's perfect for homes around the sunny coast of Australia. The plunge pool can sit right outside the back door, and you can put up a waterfall.
3.   Lap Pool
This rectangular-shaped pool is made of shotcrete. It's long but has a connected spa and equipment area. It sits in a backyard blended with garden plants and wood giving it a beautiful look. It's one of the best ideas for house pools.
4. Mid-century Pool
This magnificent pool was designed by Roland G. Roessner in the 1950s but later renovated by Clayton &Little. It's a mix of elegance and beauty portrayed by the matching chairs and tables that reflect the water feature to match their turquoise color.
The backyard's wood walls and greenery surrounding gives this swimming pool a heavenly look to enjoy your summer.
5.   Add Light Effects
Besides the natural pool light, additional light effects give your pool a refreshing look. The lighting is best installed during construction. However, you can add ambient lighting around the swimming pool deck when landscaping and the patio room. Multiple small lights work best.
6.    Add a Spa
A spa swim all year round is cool. If you did not fit it when constructing your pool, you could still add it besides the pool edge creating a link between the two in the form of a spill away. The spa can be round-shaped rectangular, or square to match the main pool.
7.    Tudor Garden Pool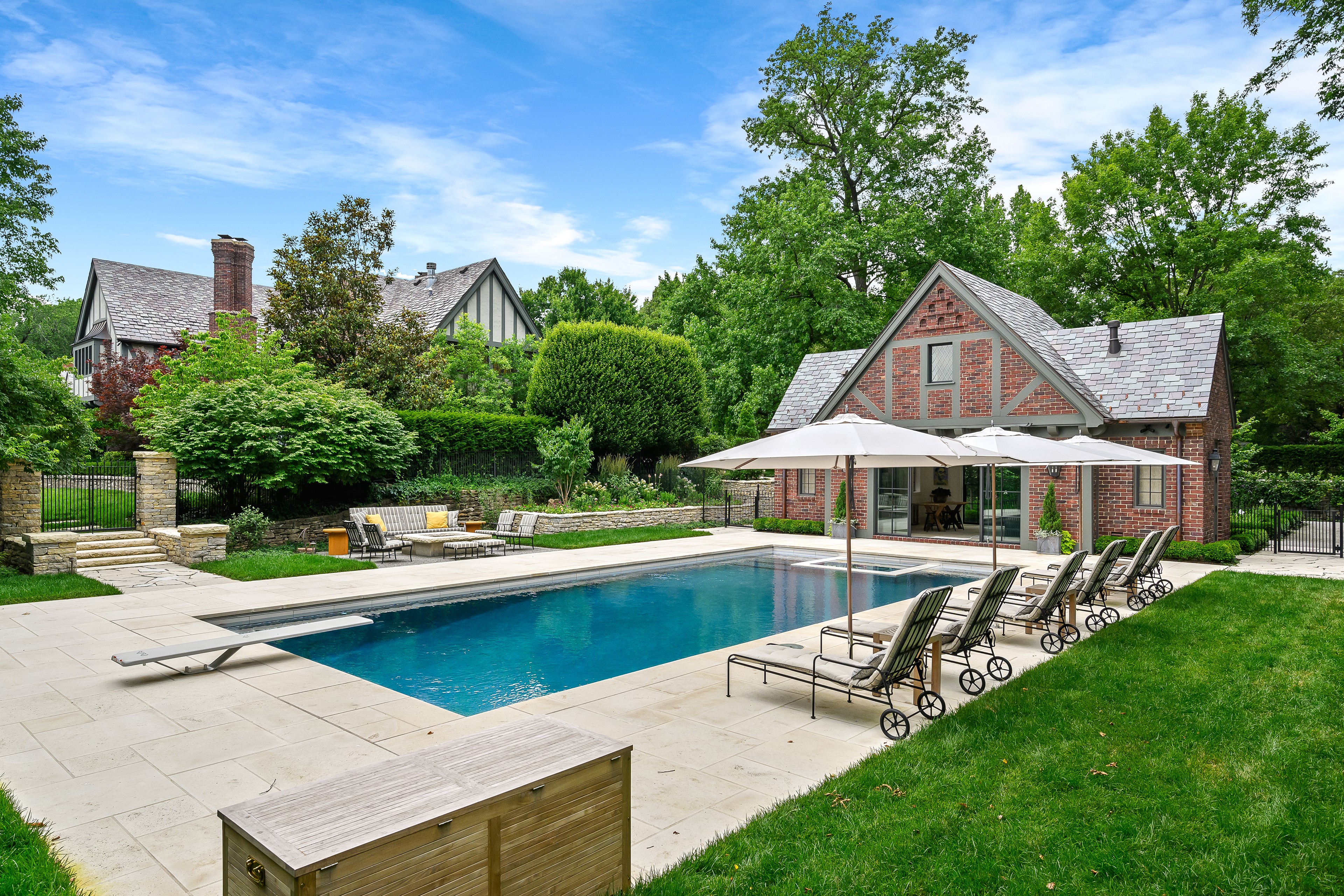 This rectangular-shaped swimming pool has an old stone fountain flanked on both sides by stylish lounge chairs. The backyard is balanced with natural pool greenery creating a perfect yard.
8.   Bluestone Patio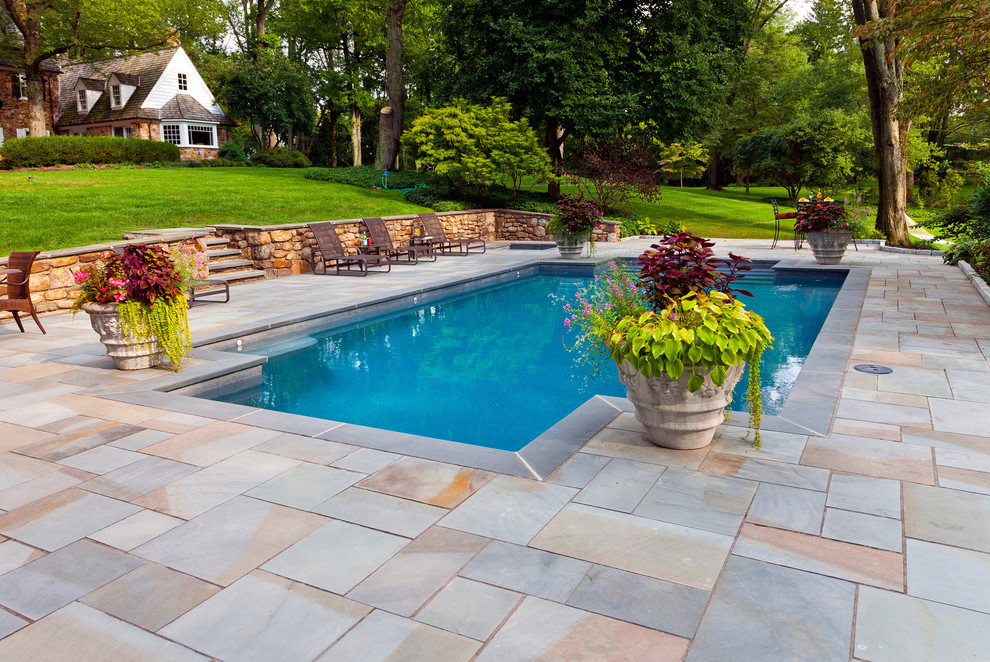 This swimming pool depicts the beauty of a freeform design with a traditional appeal from the pool deck and stone walls built with bluestone.
9.    Build a Gazebo
Adding a gazebo with a fire pit adjacent to the water feature gives the backyard an awesome look. You can't resist sitting on those well-fitted sofas in the gazebo as you enjoy the heavenly pool feeling.
A fire pit lights up the pool area and keeps you warm.
10. Inclusive Patio
This small patio area holds features like a square swimming pool, fireplace, outdoor television, and stone patio. It gives the pool a cool look of inclusiveness. The television is watched from the pool.
Frequently Asked Questions (FAQs)
1. What is the Smallest Inground Pool you can Build?
A.Your budget and yard space determine A. Size of a small pool that you can build. There is no specific small size for a small pool since it depends on the user.
Some people say that a swimming pool under 10000 gallons is small, while others consider it big. The inground vinyl kit is as small as 10'x10′ with a depth varying from 24'' to 72''. The most common small pools measure 12 feet by 24 feet or 10 feet by 200 feet.
2. What Type of Inground Pool is the Cheapest?
A. Vinyl inground pool liner is the cheapest swimming pool you can ever find in the market. No plumber can build you a swimming pool of any type with the price of vinyl.
Although vinyl is a liner that needs a steel, concrete, or aluminum frame to form a structure, the total construction cost remains the lowest. It could also be built inside the house.
3. How Expensive is a Small Inground Pool?
A. How expensive a small inground pool could be, depends on the swimming pool design you choose. A concrete pool is the most expensive because of the craft, design, and time to complete them.
Fiberglass is cheaper to mount and maintain as its prefabricated from the factory, then shipped by a track and placed on the excavated hole by a crane.
It does not require more design, thus reducing cost. Its material is not as durable as concrete, considering it requires maintenance after every ten years.
Vinyl liners are the cheapest and most affordable for DIY small pool ideas. They are flexible and adjustable to any size and shape save for their durability feature.
4. What is the Easiest Inground Pool to Install?
A. Fiberglass is the easiest of all the most common types of inground pools. It's prefabricated in the manufacturing company in a particular design and size. It is then shipped by track and dropped by crane in the already excavated pool area. Although you can DIY, you will need to contact a fiberglass expert to help in perfect installation.
You can also fix the coping of your choice and add some landscaping ideas to spruce up the pool area.
Conclusion
The process of building a small inground pool is simple and takes only a few weeks to complete, and start enjoying a swim in your outdoor space.
Don't let your tiny yard deter your dream of owning a pool, as there are small pools of less than 200 feet that can even be built in your house.
There are many small pool ideas you can choose from, ranging from square, rectangular, round, or free-form shapes. It's worth noting that for every size of outdoor swimming pool that you choose, the cost of construction is subject to change. Choose a pool design and size that aligns with your budget.