How to Clean Rubber Gasket in Washing Machine
Best Selling Washing Machine
You enjoy throwing those big loads of laundry into your washing machine. But how about the washing machine washing itself? Doesn't it require thorough cleaning too?     It does.
Wondering how you can clean your front load washer's rubber gasket? Read on to understand these simple but effective steps:
Regularly Check The Status of Your Washer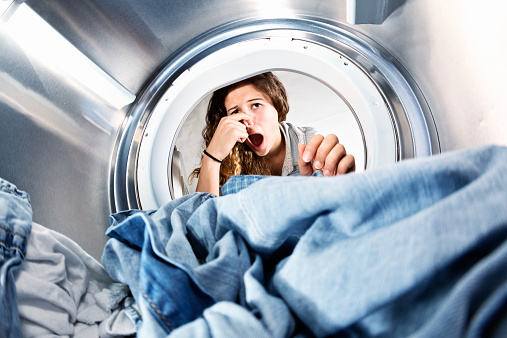 Take some time after every wash cycle to check the inside of your washing machine. Does the inside of your washer appear dark and damp?
Such an internal environment favors the breeding of black mold and mildew, particularly around your rubber gasket. You may argue that your washing machine has a self-cleaning system. Most washers do, but the self-cleaning function might not be fully effective in keeping your washer clean.
Regularly cleaning your washing machine lengthens the life cycle of your washing machine and eliminates allergens that may pose serious health risks to you and your loved ones.
Furthermore, a dirty washing machine might not efficiently clean your clothes. When your washer becomes dumpy, your clothes can start to have a dump smell after every wash cycle.
Likewise, cleaning your rubber gasket and keeping it free from mold and mildew is one of the essential regular maintenance activities you should carry out on any washer, especially front loading washing machines.
Front-loaders tend to keep a lot of moisture from the inside. This increases their chances of encouraging the growth of black mold. It's also not so straightforward to dry your front load washer any wash cycles.
This means it shall retain some moisture which encourages dampness. But, don't worry. With a few easy steps, you can remove mold from your washer and restore its efficiency once again.
Gather all the Supplies Needed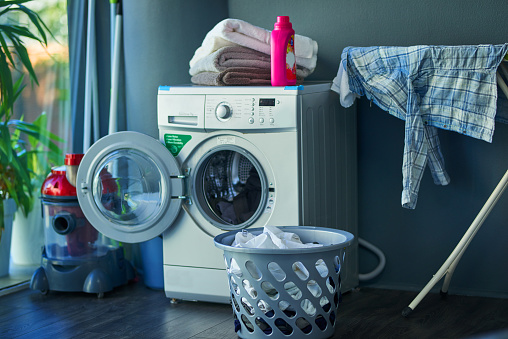 It would be best if you did not run to the nearby laundry store to get supplies to clean your rubber seal. After all, you do not need too many supplies. The most important supplies you need are also probably under your ownership already.
These are the supplies you'll require:
White vinegar. The vinegar should be distilled.
Cotton rolls or cotton pads
A clean old towel or rag
An old toothbrush
You have these supplies at home already, right? You're a step ahead, and soon your washer is going to be spectacularly clean. However, note that mold can leave stains on your washer, particularly around the rubber seal.
Therefore, cleaning the rubber gasket isn't a guarantee that your washer will fully mold-free. Some stubborn mold might remain on the rubber, but with regular scrubbing, you can finally remove them all.
Get Handy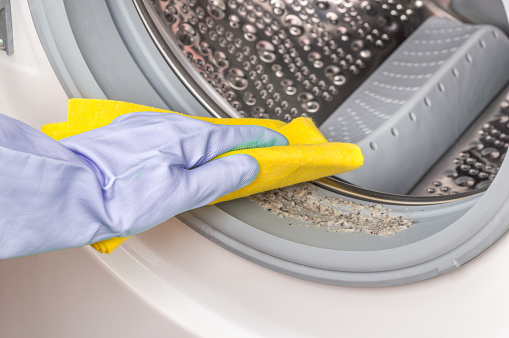 Your washing machine has some mildew and mold. You've gathered all the supplies you might need to perform this maintenance practice successfully.
Step One
Start by open the washing machine door. Open the door as widely as the door will go. You want to have a clear view of the entire inside part of your washer. A widely open door will allow some sunlight onto the washer.
Sunlight can help clear the dampness and give your washer a fresh smell. Enough sunlight can also dry up the mold and prevent them from multiplying. Sunlight will also light up the internal part of your washer to help you clean thoroughly.
Dampen your old piece of towel with your white vinegar. Alternatively, you can dampen your cotton bolls with vinegar.
Use the damp cotton balls or a soft cloth to gently scrub off any mildew on the widely exposed parts of your rubber gasket.
Step Two
You've cleaned the visible parts of your washer's door and gasket. Proceed to clean the washer's seal and all the gasket's crevices.
You can also use your q-tip at this stage. The q-tip will make it easy for you to clean all the crevices on your gasket deeply. You'll need your toothbrush to scrub these crevices, which you might not comfortably clean with your cotton balls.
So, deep your Q-tip's end into the distilled white vinegar. Use one of your hands to pull the folds of your rubber gasket. Use the q-tip to remove any debris and mold on these crevices.
Replace your q-tips as many times as you'll need to clear all the mold. Clean the inside of your gasket with the q-tips to your satisfaction.
Remove any strands of hair that may be hiding within your gasket. When this debris soaks in water, they produce a bad smell. Clear them all to enjoy a fresh-smelling washing machine for the next month before you repeat the procedure.
Ensure you clean the gasket all around as mold hides around it. Afterward, you can use your clean, dry piece of old towel to wipe away any excess vinegar. Vinegar is effective in removing spots and stains.
It also kills bacteria, is an anti-allergen, and can help you resolve your mold problem. Therefore, when certain or detergents your manufacturer recommends you use on your washing machine cause you allergies, vinegar is a good solution.
Step Three
You're fairly done. The last step of removing mildew or mold from your rubber seal is to clear your washing machine of any vinegar or mildew residue. Therefore, run an empty cycle on your washing machine.
You can use warm or hot water. Alternatively, you can run the self-cleaning cycle. Your washing machine smells fresh by this time, and you have removed all the visible mold and mildew.
You've also removed any debris and detergent residue that could be contributing to the bad smell you would feel coming from your washer.
Use Bleach
There are many methods of cleaning your washer's rubber gasket. Bleaching agents like white vinegar are a strong germ killer. It can also remove all mildew, mold, and bacteria from your washer's seal.
However, while using bleach to clean the interior of your washer, ensure you run your fun and leave all the doors and windows open. This way, you can avoid inhaling the bleach's smell. Too much of it can cause breathing problems in the future.
Gather All The Ingredients You'll Need
Youll need some ingredients like;
Bleach gasket cleaners
A gallon of hot water
One cup of chlorine bleach
A clean bucket
A face mask
A pair of gumboots
A pair of gloves
A cotton pad
A clean cloth
Dress appropriately. Mask up to prevent the bleach from spilling on your face. Wearing rubber gloves will help you to avoid touching the bleach as it can irritate your skin. Your gumboots, too, can help you protect your legs from any bleach spills.
Fill your clean bucket with bleach and hot water. Agitate the solution and thoroughly mix it. Dunk your sponge onto the chlorine bleach solution. Wring the sponge off any excess liquid right onto your bucket.
With your rubber gloves on, use your hands to pull the rubber seal away from the washer's door frame. Clean the crevices around all the visible areas. Also, clean the door seal as it's also a mold growth area.
Dip your cotton pad into the bleach solution again, and like before, wring off any excess bleach back onto the bucket with the solution. This time, wipe the outer ends of your washer's rubber surface. Rinse your sponge with some cold water.
Wipe the outside and inside of your washing machine gasket to clean all the bleach residue. Dry the surface with your clean cloth. Afterward, leave the door open.
Use Baking Soda
To use baking soda to clean your washing machine seal, you'll need the following ingredients;
A vinegar gasket cleaner
Baking soda
White distilled vinegar
A spray bottle
Some sponge
An old toothbrush
Warm water
Some towels
Gently pull back the washing machine seal to show all the underlying crevices. Sprinkle a significantly small amount of baking soda onto the creases.
Fill your spray bottle with just vinegar. Spray the liquid directly onto the baking soda you poured into the crevices.
Use your toothbrush to wipe off any grime. Wipe your front load washer of any mold and mildew. Wipe your rubber seal, both the outside and the inner parts of it.
Grab your clean towel and wet it with hot water. Wipe away all the baking soda and residue from your gasket. Dry all the areas you've cleaned with a dry clean towel.
Use Hydrogen Peroxide
Do you know you can mix hydrogen peroxide with lemon juice to make an effective solution to clean your rubber seal of any mold and stains? This solution also effectively inhibits the growth and multiplication of black mold.
You'll need the following;
A Hydrogen Peroxide Gasket Cleaner
Two cups of warm water
Half a cup of hydrogen peroxide
A quarter cup of lemon juice
Sponge
A clean cloth or towel
A spray bottle
Use this method, mix lemon juice, warm water, and hydrogen peroxide in your spray bottle, and shake well. Pull the washer door open to have a good view of the washer's interior.
Spray your rubber door seal next to the washer's door frames with the solution. Extend further to clean your washing machine drum.
Spray the back and front parts with the solution and use your sponge to wipe off any debris or dirt. Rinse your sponge with some cold water and use the sponge to wipe off any remaining residues. Dry your gasket with a clean piece of towel and close your washing machine door.
Use an Acidic Cleaner
What happens when you do not have hydrogen peroxide buy you want to clean your washer door seal and remove mold? You can mix lemon and vinegar to form an acidic solution to help you remove mold from your washer. This solution is also effective when you want to prevent mold growth.
To clean with the solution you need;
Two cups of hot water
An acidic gasket cleaner
A quarter cup of lemon juice
A half-cup of white vinegar
Some rags
A towel
A spray bottle
Pour your water into the spray bottle and add the vinegar and lemon juice. Mix these ingredients exclusively by shaking the bottle. Open the door to see the washing machine gasket clearly. Spray the cleaner on the washer seal and on all the areas of your rubber gasket to kill all the bacteria.
Use your rag to clean the seal both from the inside and from the outside. Clean along the crevice lines.
Rinse your towel with some cold water and wipe the cleaner off the entire rubber material. Dry all the parts you've cleaned with a dry towel.
The citric acid on this solution can help you remove mold and mildew from the washing machine gasket and help you prevent mold in the future. Make it a routine practice to regularly clean your washing machine gasket with this solution, and you'll forget about foul smells and mold.
Prevent Mold on your Washing Machine's Seal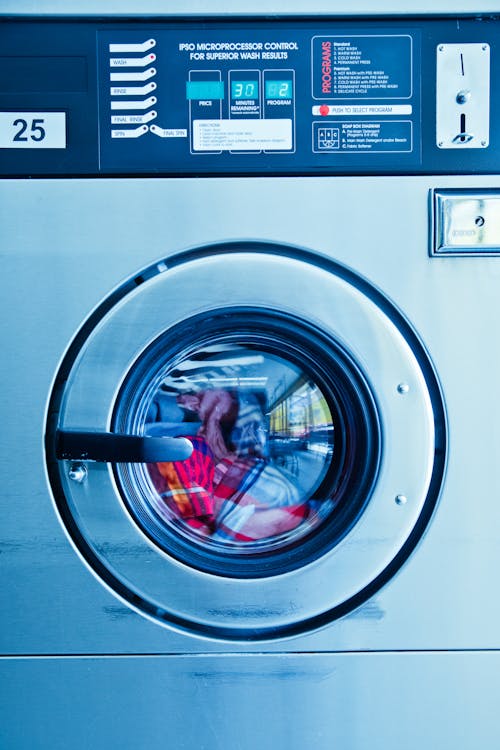 Interestingly, the most effective and costless way to keep your washing machine and the rubber seal free from mold and mildew is to leave the washer's door open. An open door allows both the gasket and the washer's interior to dry faster.
This means the internal part of your washer does not accumulate moisture, providing a good breeding ground for black mold. An open door also aerates the washer and gives it a freshly pleasant smell.
Always remove wet clothes from your front loader washer immediately after a cleaning cycle. Therefore, make it a habit to leave your washer's door open for some hours after every wash cycle. This way, mold can be a thing of the past.
Perform Regular In-Cleaning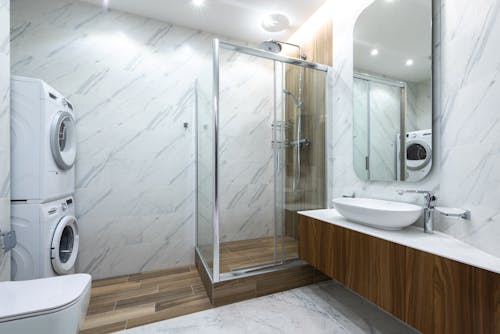 Failing to regularly perform thorough internal cleaning of your high-efficiency front-loading washing machine can reduce the washer's efficiency and reduces the lifespan of your laundry machine.
Allowing gunk and mold to donate your washer causes your washer lots of problems over time. Therefore, if you own a front load washer, often and with a lot of consistency, clean the washer's tub, the door, the rubber gasket, and the detergent dispenser clean. Regular cleaning reduces the chances of mold growing within your washer.
Furthermore, hard water minerals like magnesium and calcium, soap residues, and other chemicals on your laundry detergents, as well as bacteria, can clog the inner parts of your washer, including the washing machine seal. . They can block your drain pump. Soon you'll be back in the shop to buy a new washing machine.
Even when you're using a top loader washer, these residues can clog the washing machine seal. Soon you'll be having smelly laundry.
As you clean your washing machine gasket, remember to clean the detergent drawer. Washing up liquid that may have spilled on this drawer can help you prevent having a most internal environment on your washer. Such an environment can promote mold growth.
After using either of the above cleaning procedures, always run an empty hot water cycle to remove any remaining solution residues and kill any surviving bacteria. Also, take advantage of the self-cleaning function of your washer.
This option, like the hot cycle, can help you remove mold from your washer. This function also helps with washing up liquid residue from your machine.
A clean and dry washer does not really allow mold growth. Similarly, if your washer is a steam cleaner, you need to leave often the washing machine door exposed to allow enough sunlight into the washer. This way, you can protect your washing machine seal from mildew, mold, and dampness.
It's not difficult to keep your washing machine seal mold-free. These homemade solutions can be so helpful as you clean your washing machine seal. The solutions freshen up your washing machine and remove any stubborn stains caused by colored clothes.
Therefore, any time you want to remove mold from any part of your washing machine, whether the inner or the outer part, use either of the above solutions. Likewise, make good use of the hot wash option. This wash usually has very high temperatures to kill bacteria within your washing machine and clothes.
Similarly, always give your clothes that final rinse to flush your washer of detergent residues and cloth debris. All these encourage mold growth, and when they enter the crevices of your washing machine seal, your washing machine will soon start having a foul smell.
Delaying to deal with developing mold can end up with your clothes having a bad smell after every successful washing cycle. Both top loaders and front loader machines can encourage the build-up of debris.
This can lower the high efficiency of your washing machine and lower the lifespan of your washing machine. A fabric softener can also hold moisture. Therefore, to prevent mould growth on your front loader, regularly clean your fabric softener dispensers.
Choose your preferred cleaning agents and follow the step-by-step guide to restore the high efficacy of your washing machine*.