How to Make Pool Water Colder
Best Selling Pool Cooler Equipments
In the heat of summer, nothing can refresh your body like a dip in cool pool water. However, you may not know how to make pool water colder and the plunge feels disappointing because of the scorching heat and higher temperature of the pool.
The ideal temperature for swimming should be between 78-82 degrees Fahrenheit. Beyond that, it becomes uncomfortable as it is either too chilling or sweltering. Since the temperature rise occurs naturally in summer, you cannot control it. However, you can keep the pool cooler and enjoy the beauty of summer.
This blog will provide you great ideas on different ways to cool your pool water and make your summer vacay cool, literally.
Principles of Heating and Cooling
Understanding the principles of heating and cooling is essential when choosing ways to cool your pool temperatures. The principles help you understand what heats your pool water and how you can lower the temperature of your pool.
Your pool water heats up out of three major principles, namely conduction, radiation, and convection. Similarly, the process of cooling your pool water will apply the same principles in addition to ventilation.
How Your Pool Water Temperature Changes During Summer
Your pool water temperature rises when it gains heat from other objects (heating process). On the other hand, cooling is the process of transferring heat from your pool water to other matters (solid, liquid, or air).
Summer temperature in the US ranges between 50°F and 85°F, making it the hottest season of the year. Alaska and Louisiana are the coolest and hottest states, with an average summer temperature of 52.3°F and 81.1°F, respectively.
As heat increases in the atmosphere, water bodies like lakes and pools also warm up. It is common for pool water to get as hot as 95 degrees Fahrenheit. While such temperatures may be okay for bathing, it is not enticing for a summer swim.
Below is a description of how the heating and cooling processes occur in your pool water.
1. Conduction
This is a process whereby heat transfers through a solid object.
Your pool water temperature rises because it comes into contact with swimmers' bodies and heated pool surfaces. This contact causes heat transfers that eventually warm up the water.
Cooling down your pool water through conduction means that you have to introduce a cooler solid or liquid into the water. This way, the solid absorbs heat from your water, leaving it cooler.
2. Radiation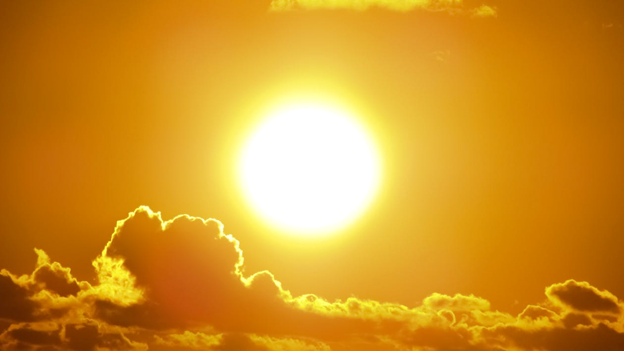 Radiation refers to the transfer of heat from lights such as the infrared to other objects.
During summer, heat energy from the sun is intense for two major reasons; the daylight hours are more, and the sun hits the earth's surface at a steep angle and concentrates the amount of energy hitting a specific spot. So when this heat hits your pool, it warms it up faster than in other seasons.
Cooling radiated heat involves redirecting the lights or preventing them altogether from reaching the pool water.
3. Convection
The process whereby heat transfers through the air is known as convection. Your pool water gets heated by getting in contact with the hot air temperature.
In this case, cooling the pool requires you to limit the contact between your pool surface water and the air above.
4. Ventilation
Ventilation refers to the circulation of air. It rarely causes your pool temperature to rise significantly, but it is an important principle in cooling the pool water.
Having updated yourself with how water temperature changes, let's look at what you can do to lower your pool temperature.
10 Ways to Cool Down Your Pool Water
1. Install an Evaporative Pool Chiller
The pool chiller uses electric fans and misting effect to make the pool cooler. As warm water runs through the evaporative pool chiller system, the machine sucks the heat from it and reduces it up to ten degrees lower in a short time.
The evaporative coolers are affordable to maintain as they require no freon as the reversible heat pump does. This makes its power consumption lower, and therefore an economical and efficient choice for cooling the pool.
They are available in different sizes to suit different sizes of pools, including small residential pools and very large Olympic pools.
2. Install a Fountain or Waterfall Feature
When you install fountains or faux waterfalls into your pool, you greatly improve its aesthetics. But that is only one reason why people beautify their pools this way. The other functional reason is that it helps to cool the water.
As water shoots up the fountains, the motion energy (Kinetic and gravitational energy) causes its bond to break. This results in droplets that get exposed to the air. In the process, the water loses heat to air through evaporation and convection.
Creating a fountain or waterfall for your pool is quite easy. here is a video on how to install a pool fountain yourself
3. Invest in a Reversible Heat Pump
The heat pump is commonly known to increase the temperatures of the pool water. However, you are probably wondering how the heat pump is related to cooling the water. The hot-cool models, alias reversible heat pumps, are designed to chill the pool water as well.
Cooling water using heat pumps combines two processes. That is, expelling the hot water and circulating the chilled water. The heat pump has an evaporator coil that uses liquid refrigerants to facilitate the cooling process. In addition, it uses a fan to bring in cooler air.
To expel heat from your pool, the pump first captures the heat from the water and concentrates them. Then it circulates the water by passing it through the filter to the heat pump heater, where the coil releases the heat to the surrounding environment through a reversible heat process. The water is then pumped back to the pool, colder.
4. Use Ice
If your chiller needs service or you don't have one yet, the need to cool swimming pool water may seem a tall order. During such times, anything that will help feel cooler in the pool is a great idea.
One way to cool the pool is using ice in the same way you cool your favorite drink with ice cubes.
The freezing point of water is 32°F. Hence ice temperature can only be 32°F or lower. The cooling principle in this method is that the ice absorbs heat energy from the pool water to melt and further rise to equal the pool temperature. This process causes the warm pool to be cooler.
The amount of ice you need depends on the size and temperature of your pool.
For instance, if you have a small round pool of 12 ft diameter and 4 ft deep, your pool capacity is 2975 gallons. To cool down your pool by 1°F only, you will need around 130 lb of ice. If you do the math for a bigger pool or a bigger temperature difference, it becomes too many pounds of ice.
While it may sound like a heavy task and unrealistic, it is a good way to flex your muscles.
5. Drain Warm Water.
A simple way of circulating the water is through draining the warm water from the swimming pool then refilling it with cool water.
You can avoid hiking your water bills by investing in a water reservoir, where you direct the drained water to cool and later recycle it.
To effectively lower the temperature o your swimming pool, ensure that the refilling water source is cooler. For example, an underground reservoir or a well are better choices because ground temperatures are cooler in summer than the temperatures on the earth's surface.
It is a good idea to have a sump pump as it quickly drains your water. Besides, you do not have to drain everything. Depending on how warm the pool water is or how cold the refilling water is, you can decide the level to which you should drain the water.
6. Orient Your Swimming Pool Toward the Wind
If you plan to install an above-ground swimming pool this summer, one tip you can borrow is to erect it in the open backyard where wind freely blows.
The wind is a natural source of ventilation that brings about cooling (related to that cool feeling you get when you stand in the breeze). You may consider it an economical option as it needs no installation cost.
When wind passes over your pool, it carries away the evaporated water leaving the air around the pool area cooler. This leaves room for more water to evaporate and cool the pool. In addition, stronger winds enhance upwelling, where it moves the warmer water surface and causes cooler water from beneath the pool to circulate.
7. Awn the Pool
Pool awns help cool down your pool. When installed above the pool, they shield the water from solar radiation. Instead, they absorb some of the heat from the sun and reflect some. Thus the only heat that reaches your swimming pool is that which goes through the awning material.
The Pool awns come in different shapes and materials. the most common ones are umbrella awns, sails, and canopies. Awning the pool is also decorative. You may try these ideas to shade your pool and give your backyard a facelift.
8. Install a Pool Mister
Another way to cool the pool area is by installing a mister around the swimming pool.
Pool misters are perfect for drier climates and summers. They work by emitting water at high pressure out of a nozzle to create very tiny droplets. The larger surface area o the droplets increase evaporation and maximize cooling.
A misting system in your patio cools down the swimming area temperature. In turn, it will make swimming water cool.
Since misting is one of the ways to lower the air temperature, it is suitable for other household members who cannot swim, like the elderly and babies.
9. Run the Filter at Night
Running your filter system daily is important in maintaining pool hygiene. It is more functional to run the filter at night during summer because you will easily achieve a cooler pool.
Temperatures are generally colder at night than during the day because of the absence of sun rays. Therefore when the filter runs at night, there is more circulation of cools water.
Unlike using heat pumps to lower temperatures in pools, filters consume less power. If you are checking your costs, then you may consider the filters as more economical. In addition, The filter also enhances the effectiveness s of chemicals like chlorine, which work better in lower temperatures.
10. Plant Trees
Your pool temperature rises through absorbing heat from around the pool area. So, logically, one way to cool down your pool is by cooling the surrounding aura.
Planting trees is a nice long-term strategy when landscaping. Trees are great because they provide shade and act as coolers around your pool. The cool air under the shade also causes breezes, which contribute to keeping your pool cool.
When selecting the species to plant in your backyard, you have to choose carefully, keeping in mind that deciduous trees can litter your pool when they lose their foliage. It is also advisable to ask your garden nursery attendant to recommend trees whose roots won't eventually damage the pool.
Final Thoughts
Swimming in cool water is a fun activity during summer. Yet, summer temperatures could warm up your pool above 90 degrees. To keep your pool refreshing, then apply appropriate cooling methods like providing shade using trees and awns or installing a water feature like a waterfall, mist, or fountain. These act as both coolants and creative landscaping ideas.
You could also consider investing in pool chillers, reversible heat pumps, and filters for their efficient cooling mechanisms. Ice in the pool also works wonders in cooling, albeit a tough task. Still, you may opt to rely on natural options like the wind to keep your swimming pool colder.