The Best Warranty for Washer and Dryer
Best Selling Washer and Dryer
A warranty on appliances protects not only the customers but also the manufacturer and retailer. Think of this, assuming you spend your hard-earned money on a brand new dryer that ends up being a lemon in your family. Who is to blame? You may blame the manufacturer and end up suffering loses.
For this reason, before you purchase any item, you need to consider its warranty.
Most manufacturers guarantee a one-year warranty. The warranty service covers the repair charges that might be incurred in the whole year. However, other corporations offer appliances that come with up to five years of warranty.
For instance, with Maytag, you can acquire a washer or a dryer with five years of coverage. The corporation covers even a top-load machine, front-loading machines among others. Even if you will have to pay a lot of money for the good, it is worth as you are assured of receiving a more durable washing machine.
For the last few months, the world has been battling with the pandemic. A lot of issues, including the supply chain and delivery of appliances, have been affected too. The sourcing of material, the manufacturing of these items, and the distribution have been falling behind.
The disruptions have seen the cost of laundry machines rising. As a customer, you would prefer giving out a lot of money and purchase an appliance from a manufacturer offering an extended warranty. You need to feel the value of your money by buying a washer or a top load washer that will serve you for ages before you think of purchasing the same product.
A machine with a good warranty guarantees reliability. A manufacturer cannot offer a warranty worth five years to an appliance of a low standard. For instance, if a dryer has a warranty of five years, the manufacturer offers to repair the dryer for the next five years without an extra cost. If the dryer fails three times a year, the manufacturer will then suffers a loss. Therefore, such a manufacturer will ensure that the appliance will work for more than five years without any defects. With this in mind, you might be wondering about some of the best warranties offered for washing items.
When a major tool or a home system fails to operate, your day will be disrupted. You may become vulnerable to debts and other financial difficulties, especially if you do not have enough funds to service the repair or replacing the default with new appliances.
However, buying appliances with a home warranty can change all that. A home warranty refers to a service contract requiring manufacturers to provide services in exchange for a small fee.  Also, you can buy home appliances with warranties at a high price and enjoy an extended period of protection as you wash clothes effectively.
Aspects to Consider when seeking a warranty for laundry machines.
Reliability
Reliability is key when selecting a machine to install in your room. You need a washing machine that will help you wash clothes in a few wash cycles.
The home warranty, or rather the Maytag warranty, guarantees the reliability of all the machine as it comes with extended protection. The top load washer offered by the cooperation is more effective. You can use cold water, and with a few wash cycles, you will have your clothes clean.
Coverage Period
Machines with extended coverage are a bit costly. However, it is worth paying the cost as the home warranty offered guarantees protection.
Before purchasing any major appliance, you need to consider the service plan offered. Maytag warranty has a better business bureau that ensures all your wall ovens and dryers are safe and clothes remain clean. However, you need to consider the price of the item as per manufacture and the differences that occur when the same product is purchased from companies that offer repairs at a fair price.
Energy Star
The energy star certification of a machine determines effectiveness. You need to select a washer with better service plans and an energy star that is relatively manageable. However, you do not have to solely depend on energy star ratings to determine the effectiveness of a washer and dryer. Some of the ratings do not tell the entire story of the product's water and carbon usage.
Take a look at some of the cooperation that offers the best warranties for washers and dryers across the globe.
Maytag is one of the US corporations that manufacture items such as dryers and washing machines. Its warranty is worth your time as it covers the many systems of homeowners. The overview of the Maytag warranty is an overview owned by her mother company known as Whirlpool Corporation.
If you have been paying many funds as you purchase appliances, this is the cooperation to consider. The association prides itself on the aspect of building strong and reliable instruments at your home. With at least $1049, you can get a load washer with a ten years warranty.
The washing machine is worth your money as the manufacturer warranty ensures the repair of the appliance for five years without an extra charge. In most cases, the drive motor, the wash basket, and the dryer drum suffer damage while working. Most home appliances often require services to eliminate any default on these parts. However, with Maytag, the features come with an extended warranty of up to ten years.
Before you think of buying a new washer, think of Maytag. All the items have a service contract that functions as per the manufacturer's warranty. The other merit of considering Maytag for all your household items or a washing machine is that you can use cold water to wash your clothes. With Maytag appliances, you need a few wash cycles to make your clothes clean within minutes and make your guest house smart.
Maytag warranty provides a service plan that covers all the repair costs on any new appliance. Although the original purchase price is high, the laundry item come with a home warranty that ensures even your guesthouse remains clean. The aspect is linked to the fact that you can wash and dry clothes using the household goods sourced from Maytag.
You can trust Maytag for all your laundry machine. The corporation will tackle all your problems with any component. The drive motors of these items, wall ovens, burners, and elements ceramic top, let alone grates bake and broil elements, are well covered by the service contract offered by the corporation.
If you are looking for a washing machine or a new set of dryer sets, ensure you understand the contract period before you buy. Also, a washer is a bit complex in the contemporary world. It is necessary to purchase models with an extended contract program. However, you can consider upgrading the warranties for your protection. You need to consult one of the sales associates and learn more about the warranty program before deciding on buying appliances to wash your clothes.
How to Make a Maytag Warranty Claim?
Customers who do not buy a washing machine with no warranties receive a service plan from Maytag. The program starts on the purchase date, and customers must pay for the service plan in full. Once you make payments on the service plan, you can begin to claim services. You will have to wait for up to 60 days for the machine to be serviced.
If your device is beyond repair, you will have to reimburse the machine or pay the price of a new one.  If your washer has a coverage, you can file your claim for the service within 60 days. However, it would help if you observed all the necessary guidelines offered by the manufacturer.
The contract allows one to make service calls and seek installation guidelines. Since you might change your laundry, you can seek installation assistance from the corporation. There are cases where the washing machines fail to function and require extensive repairs within the manufacturer's premises. The service contract does not cover the transportation charges.
PROS:
The contract period covers all the sensitive parts.
Covers all the intricate details for up to ten years.
The dryers and the washers are serviced for up to five years without extra charges.
You can extend the coverage period and enjoy its protection.
The sales department offers clear direction on the warranty provided by Maytag.
CONS:
The contract does not cover minor distortions such as dents to the surface.
Upgrading the service plan invites more chargers.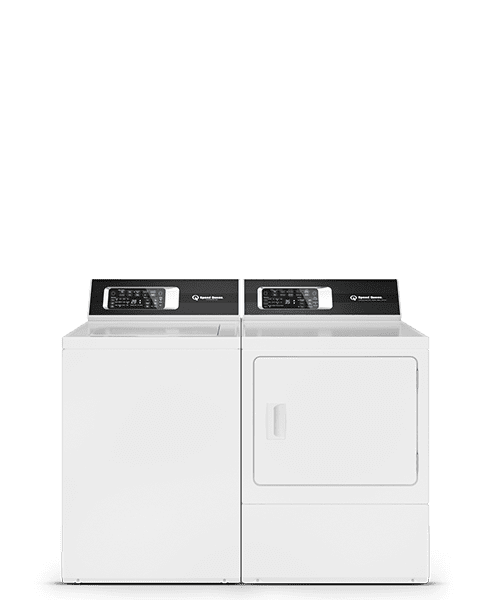 Speed Queen is one of the laundry machine manufacturers that offer appliances with an extended warranty. Obtaining a speed Queen Washer is worth your money as it is more durable. If you are tired of mold and mildew in the front of a load washer, you need to consider owning a washing machine sourced from Speed Queen Washer at a reduced price.
Imagine owning a machine for ten years without offering an extra charge for its service. Installing a washer or a dryer from well-known companies such as Speed Queen Corporation will guarantee you peace as you can stay up to 25 years without any distortion on your machines. Speed queen appliances come with a ten years agreement.
The manufacturer contract comes with a labor service backup that ensures all the appliances serve you long enough and help you wash with less effort. The manufacturers are confident of their gadgets hence the need to trust them.
You need to choose between TR top load products and the feature-rich TR7 that produces exceptional results in your laundry desires. The manufacturer has a front load washer that is relatively economical when it comes to water usage. If you are looking for household appliances to wash your clothes, you need this washer. The organization offers the best appliances to dry clothes of all calibers.
The best thing about owing laundry appliances manufactured by speed queen is that the manufacturer's warranty has a relatively cheap service plan. The agreement service offered by cooperation is reliable. Once you note a default on the machine, you are not supposed to load it with clothes. The company advises customers to wash their clothes with fully functioning appliances.
PROS:
The warranty period covers all the sensitive parts of the household appliances.
You can extend your coverage period to guarantee more service to clean clothes.
New appliances come with better terms of service plan.
Services are offered for up to five years without extra charges.
An extended contract has similar benefits to the original warranty.
You can wash your laundry at any time of the day.
CONS:
Extending a coverage period service invites an extra charge.
The warranty does not cover dents and distortions.
The company must install the covered item.
Topical Questions
Are extended warranties on washers and dryers worth it?
The appliance industry has been experiencing a lot of changes over the years. The pandemic has disrupted the supply chain of most laundry appliances. Recently, it is costly to purchase a laundry machine from any company. However, companies have been offering appliances with extended warranties to woe customers.
One of the key aspects in determining the appliance's model to consider is quality and reliability. A machine with an extended covering proofs reliable. In other words, an organization cannot commit to a commitment on a product for over ten years if its quality is low. In most cases, substandard goods come with short warranty periods.
Washers and driers are important appliances in a household. Since most of them are relatively costly, there is no need to buy an appliance every three years. You need an appliance that is reliable and well protected. For this reason, an extended coverage on appliances is worth it.
Although most of these extended warranties on washers and driers attract a cost, the benefits associated with the appliances are more. You will enjoy the services of the appliance and have peace. You can also extended the contract period up to 25 years and kept enjoying the benefits at a reduced charge.
Who has the best warranty on appliances?
Maytag Corporation offers the best warranty on appliances. Although the coverage is not comprehensive, it covers the most sensitive part of an appliance. Maytag under Whirlpool covers different types of warranties that can cover all your devices in the laundry room.
The manufacturer's agreement covers all the machines manufactured under a specific brand. On the other hand, extended warranties involve a third party that provides comprehensive services at a low price. As you buy an appliance to wash your clothes, you need to consider the model number. The aspect is linked to the fact that Maytag under whirlpool contract doesn't cover all machines.
Other corporations that offer protection include the big box store. It provides auto insurance to anyone who purchases household items. The box stores occupy a huge space in the retail market. Speed queen also offers protection to items under her brand. However, it protects specific brands. However, it would be best if you considered the manufacturer's warranty before making any investment. Also, you need to update yourself with the latest deals and make wise decisions.
The aspect is linked to the fact that you might pay a higher price for a washing machine and end up chipping in your pocket when the item requires repairs. If you need to wash your clothes, you might be forced to repair the appliance or consult the company offering the service before you load it with any attire.
Do washers and dryers have a warranty?
Depending on the cooperation offering the appliance, most washers and dryers have a warranty. An agreement guarantee customer protection over the usage of the home appliances. Dryers and washers have sensitive parts. They include the drive motor, the wash basket, and the dryer drum that allows one to load clothes that should be clean.
Most defaults on these appliances revolve around these parts. Distortions such as dents cannot prevent the machine from working. For this reason, companies such as Maytag offers washers and dryers with an extended warranty period. Although the agreement does not cover the entire system, it is worth it as default on these parts means a distortion of your daily activities, let alone extra costs.
How long is a washer warranty?
The period of protection over each appliance depends on the provisions of the warranty. In other words, there is an agreement that covers an item for up to ten years.
The most corporation guarantees servicing of most household machines for up to five years. However, some provisions allow one to extend the contract period. The extension attracts an extra charge. After purchasing a washing machine, you to ensure that your details are well captured. The aspect is linked to the fact that the service plans differ from one contract to the other.
Conclusion
In a nutshell, if you need to upgrade your laundry and increase the efficiency of cleaning your clothes, you need to consider a reliable machine. In most cases, reliable laundry machines come with extended coverage of up to 10 years.
Accessing corporations such as Maytag is an added advantage as most of their items have warranties. An extended coverage is vital as it allows one to be at peace when using the machine. The manufacturing companies that sell items with extended warranties offer services for up to ten years without extra charges. Also, some organizations allow their customers to extend the coverage period at an additional cost.
The aspect is critical because it will enable customers to be safe and act as a form of advisement for the organization providing the item. Therefore, before you think of expanding your laundry room, consider the machine's warranty period in question.